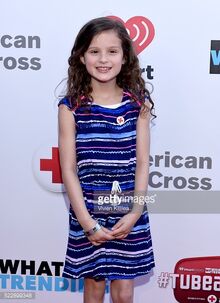 Hayley Noelle LeBlanc, was born September 2nd, 2008 in Texas.
Personal Facts
Edit
Hayley lives in Maryland, with her parents Katie, and Billy, and also her older sister Annie. Hayley also has a brother named Caleb, who sadly passed away at the age of 13 due to a heart condition.
Hayley has three dogs named Piper, Winnie and GG. She also owns a new bunny named Frizbee.
Hayley also has a YouTube channel titled [1]"Hayley LeBlanc" although it used to be "elleoNyah"
Hayley is on the show "Chicken girls" a YouTube show on the channel Brat. She' plays the character "Harmony"
Hayley is also on the show "Mani" on the YouTube channel "Brat".
Gymnastics
Edit
Hayley was a Level 3 gymnast at 1st class gymnastics, along with her sister Annie.
Hayley is fairly new to competitive gymnastics and has only competed in 5 meets during her gymnastics career. Hayley's AA score is 34.400.
Hayley attended her first Woodward gymnastics camp this summer and it was her first sleep-away camp. While she was at Woodward she got her roundoff-backhandspring which she needs to compete in level 3 in her floor routine.
Hayley has a YouTube channel called [2]Hayley LeBlanc
Hayley loves cooking and looks up to her favourite Youtuber Alisha Marie.
Her favorite animal is a rabbit
Hayley goes to a private school called Indian Creek School
Hayley's personal best AA score for level 3 is 34.400
Hayley's best event is floor
Hayley's highest score was a 9.0 on floor
One of Hayleys favorite channels is Rosana Pansino
She is 9 years old
She has 3.333333 billllon and more fans
She performs in Flair and has performed in 1.0, 2.0. and now recently 3.0 with Annie, Mia, Katie, Sydney, Arden and the newest member Alexa.
​